Eagle Digitizing has been a leading national supplier of embroidery digitizing services for two decades. As a result, we are in the unique position to deliver the highest quality digitizing services at a competitive price.
Our in-depth knowledge of the embroidery and digitizing industry allows us to digitize every design with efficient product sew-outs in mind. This expertise saves our customers time, money, and headache because our designs are specially created to minimize thread breakage and to sew out smoothly.
Before we send the digitized file to you, we test sewing each design and make revisions until we are convinced it will run perfectly on your machine. We also offer you the sew-out image for your custom designs.
While quality is our highest priority, timely product delivery is also very important to us. With our efficient operating procedures, you receive your embroidery designs the very next day. If you need the design sooner, we are set up to prioritize your job at no extra charge to you.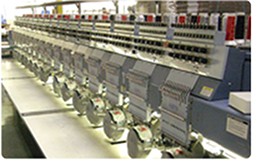 We also specialize in vector artwork creation and conversion. We can convert your logo to vector format or create high resolution vector artwork from low resolution art files. Your digitized logo is then ready for screen printing, digital printing, vinyl plotting or any other kinds of promotional or personal printing. Like all members of our team, our top-notch graphic artists focus on providing the highest quality and the quickest turnaround possible for all our customers.
The Eagle Digitizing Team would like to thank you for your interest in our services. Be sure to try us out! You'll be glad you did.